Get to know the people, story, and mission behind O'Brien Insurance
Established in 1957 by Robert O'Brien, the R.J. O'Brien Insurance Agency Inc. was founded on the philosophy of offering personal and professional service.
The history of O'Brien Insurance is a family tale; one that spans generations of accessible, genuine, exceptional service to the community.
How it all started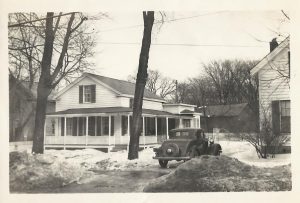 Back in the 1950's, Raymond O'Brien worked for Traveler's Insurance out of Albany, along with his brother, Jack. His son Robert (known to many as Bob) followed in his footsteps and came to work for Traveler's, too.
Ray said to his son, Bob, "You know, if you really love insurance, you should start your own company and go out on your own." As an independent insurance agent, he could advocate for his clients and find the best protection for them, rather than be limited to what a single company could offer.
So Bob and his wife Mary sold their stock in Texaco and opened up an agency on September 1, 1957, just three weeks before their third son, John, was born. Bob initially conducted business out of his home on Harrison Avenue in Glens Falls, then opened an office on Bay Street in 1960. On July 1, 1965, the agency relocated to 38 Lawrence Street.
John's introduction to insurance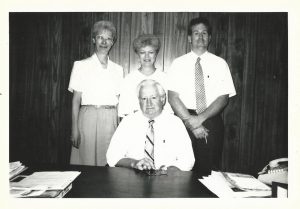 "I did not know coming out of college at Niagara University what I wanted to do," John says. "At the end of the summer of 1979, my dad came to me and asked if I had ever thought of insurance. He said, if you don't have anything else to do, why don't you give it a shot?"
John started work at his father's agency on September 1, 1979, fresh out of college. The following year, they moved into their current location at 83 Bay Street. Kevin, the baby of the family, came on board, joining O'Brien Insurance in 1995.
O'Brien Insurance is a family business. Not only has it been run by fathers, sons and brothers for 60 years, but the O'Briens care for their clients and employees like family.
Taking good care of people
"They're there if you need them. They always have been," says Sandy DelSignore, an O'Brien client since 1960. "John's just like his dad was. If I have a question, I can call and ask. They will help you adapt your policies to what you need. They work with you and they do what's best for you, with your approval."
John explains, "My dad said to me a number of times that if I always treated a person as a person, and took care of them and their needs, then I would never need to take care of the bottom line; that it would take care of itself if I first took good care of people."
Bob's retirement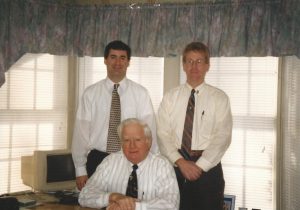 Bob retired at the end of 1998, and made the brothers 50/50 partners. O'Brien Insurance operated as a partnership for 17 years until Kevin took a job overseeing the insurance operations for Glens Falls National Bank and its subsidiaries in 2015.
Meanwhile, the business continues to innovate, operating on the cutting edge of the insurance industry. "He's got over 1,600 followers on Twitter. Who has that?" remarks client Gail Hamel of Hamel Resources. "I admire John's ability to be so innovative and creative. They're so current." Recently, O'Brien added chatbot Cora to its website.
There's an O'Brien Insurance mobile app, and John offers videoconferencing when folks aren't able to meet in person. Additional tech services are always in the works as the world advances and O'Brien continues to pioneer new methods to serve its clients in convenient and approachable ways.
John is now the sole owner of O'Brien Insurance, and running it the same way his father did. While the business continues to break new ground in technology and customer service, at its heart it's been run the same way for 60 years: Taking good care of people.
About John O'Brien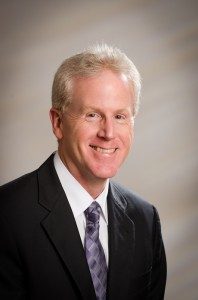 John O'Brien is known in his community as a caring, generous person, propelled by his faith and upbringing to commit random acts of kindness on a daily basis.
"One of our Code Blue shelter guests had large feet and we didn't have shoes for him in his size. I put it out there on Facebook, and John O'Brien was at my door within a couple of hours with a check. And that's the kind of thing he does, over and over," says Kim Parlee Cook, executive director of the Open Door Mission.
"This is just one of the many, many small and large kindnesses that John has shown his community; many Glens Falls residents can tell you," adds client Kate Austin-Avon of Advokate, LLC. "He's always coming up with a new way to be thoughtful and to give back. The way he lives his life and runs his business is inspirational."
This translates into remarkable customer service at the O'Brien agency; a dedication to caring for clients' insurance needs that is unmatched.
"What John offers is something above and beyond low premiums. You can always count on him as a person first and an insurance guy second. We can't even say the countless times that he has saved the day for our business. Guardian Angel might be a better title for him than Insurance Agent," add Jennifer Kraft and Liz Wilcox, co-owners of Samantha's Cafe and Catering.
"If you ask my high school friends, I was not a very outgoing person," says John. "On my 16th birthday, my mom told me to walk down Crandall Street to Barber's Market. Mr. Barber's got a job for you, she said. I worked for Barber's through college, and I got to know my neighbors."
"After my sophomore year of college, I was asked to consider being a resident assistant," he adds. "That responsibility really got me out of my shell. So I'm just guessing that my father saw that progression and knew that I was comfortable with people, and he looked at me and said, you know what, maybe he'd make a great insurance person, and that's probably why he suggested I follow in his shoes."
"The humor that O'Brien brings to the table; that's what I really enjoy," says longtime client Gail Hamel, of Hamel Resources. "John is so innovative, and creative. And also so genuine and humble. I think what makes O'Brien unique is the human touch that he gives to everything. It's a family agency. It's so special. And they do so much for the community."
It's easy to say that O'Brien, both the agency and the person, care deeply — and it shows.