Owning a motorcycle comes with so much freedom and fun, especially in the summer! There's nothing quite like hitting the open road with the sun shining and the wind blowing through your hair (under a helmet, of course). Safety and insurance may not be the most exciting part of owning a motorcycle, but they are definitely the most important!
You should be able to depend on your insurance to help you afford the necessary financial responsibilities in regards to repairs, replacement costs, medical bills for anyone injured in an accident, and even the cost to fix any property damaged in an accident. If your motorcycle is worth more than $5,000, or if you rely on your motorcycle for daily transportation, a strong insurance policy is a smart investment.
Motorcycle insurance is similar to auto insurance in that most coverage includes liability comprehensive, and collision coverage for you, your passengers, and your bike. Most states (New York included) require riders to purchase at least a minimum amount of insurance coverage. In these states, you must show proof that you have motorcycle insurance before you will be able to register your motorcycle and obtain a license plate. If you don't obtain insurance and register your vehicle properly, you will be driving illegally, which can lead to expensive fines and other unwanted consequences.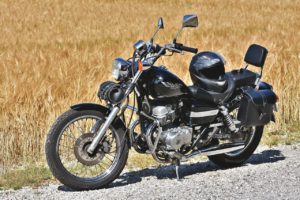 Some providers include roadside collision coverage. Collision insurance will cover the cost to repair and replace your motorcycle if it is involved in an accident, while comprehensive coverage offers the same protections if your bike is damaged in a non-collision event, such as a fire, storm, or even theft. Comprehensive insurance coverage will keep your motorcycle safe even when it is parked in front of your home.
Similarly, roadside and towing insurance helps you affordably have your motorcycle towed to the nearest repair shop. It also covers battery failure, flat tires, and mechanical or electrical breakdowns, with free delivery of water, oil, or fuel if necessary to get you back on the road as quickly as possible after the incident.
A comprehensive coverage plan is important because even the most skilled riders should be preemptive in as many situations as possible. Don't wait until you're in a bad situation to see if you're covered! Our experts here at O'Brien Insurance want to keep you and ride safe both on and off the open road.
If you have questions about motorcycle coverage please contact us today!