We all know just how important it is to have insurance – to protect our family 24/7 in case something were to happen. But did you know that it is equally important to review your insurance annually?
Remember that varsity jacket you had back in high school? Your prom dress? Your favorite pair of skinny jeans from college? Chances are that they don't fit anymore. You've outgrown them over time, they've gone out of style, and you've moved on. Well, insurance is exactly the same. As you grow through relationships, moves, new houses, new babies, and new drivers, your insurance should grow with you. Needs change over time, and that's why it's so important to visit with your agent annually to make sure your coverage fits your ever-changing lifestyle.
At O'Brien Insurance, we always look forward to those yearly reviews. They're a great way to keep current with our clients (and exchange a few stories while we're at it!). It's so important to us to have that connection with you, and that's part of the reason why we see the same smiling faces year after year (a giant THANK YOU to all of those who have been with us for so long). We want to know if anything has changed that we should know about. Have you had a new baby? Retired? Bought a recreational vehicle? A new business property? If any of those apply…congratulations! Be sure to let us know so that we can adjust your coverage accordingly.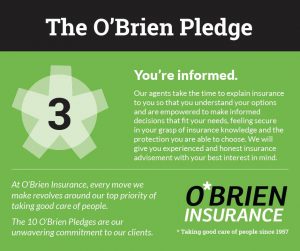 An annual review doesn't always mean an increase in cost either. Yes, your costs may very well go up, especially if adding policies for your growing family or coverage for your new driver. But, that's not always the case. We'll look carefully at your policy to see if there are areas you may not need the same level of coverage that you previously had. We'll look for any discounts that can be applied to get you a better deal. We'll make sure that we have the best company for you, and if you're not satisfied with your rates, we'll shop around. YOU matter. Your COVERAGE and PROTECTION matter. And your WALLET matters. We want the best for our clients in all aspects of coverage.
Is your review coming up? Don't be nervous! If you've got questions for us, we've got answers. Seriously, no question is too small. It's our job to explain what's covered and what's not, and to recommend any changes that will benefit you and your loved ones. Insurance can seem scary and daunting, but in reality it's something that gives you a peace of mind. It's your protective shell when something goes wrong. Let your annual insurance review be a time to learn and grow, ask questions, share a few laughs, update your policies, and leave feeling completely covered. You owe it to yourself!