A warm "hello" to all of our clients here at O'Brien Insurance! We hope you're enjoying this sunny weather (finally!) and have been able to get out and about in the beautiful place we call our home. It's getting close to that time of year again when school is out and the Summer begins – family trips to Lake George and the Great Escape, the Adirondack Theatre Festival, movies under the stars in Glens Falls City Park, outdoor festivals, and that long vacation that you've looked forward to all year long. Is it June yet?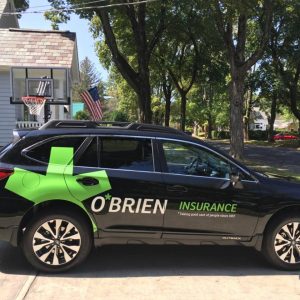 As we're sure everyone knows by now (and if you're new and you don't, you'll soon find out), O'Brien Insurance Agency works hard for our clients. 24/7 service, multiple ways to get in touch with us – we keep you safe and protected when you need it most. And it's not just John, even though he's the man of action. Who hasn't seen the O'Brien Mobile around town? Each one of our agents works hard behind the scenes year round to get you the coverage that you need, when you need it. If you follow us via our Facebook page, you'll be able to learn a little more about each of our employees over the next few weeks. They are AMAZING – they care, they listen, they help. And that's why they deserve a vacation too!
Starting on June 1st, O'Brien Insurance Agency will be closed on Saturdays until September. The staff deserves some time to spend with their family (you know we are all about FAMILY!), and we want them to come in Monday morning feeling refreshed from a weekend off. What does that mean for our clients?…NOT A THING! Really, the only thing that changes is that if you knock on the office door on Saturday, we will be closed. If you need to talk to John, you can ALWAYS call. Need to file a claim? Have a question about your policy that can't wait? Please let us know ASAP – no need to wait (remember, we are still 24/7!). We will be open by appointment only to make sure we can continue to serve our clients with the top-notch customer service they have come to know and love.
We hope that you take some time to enjoy the Summer too. YOU work hard and YOU deserve it. Try something new. Take a trip with loved ones. Relax in the pool or by a fire. Drive on the open road, with windows down! Just remember to drive safe, stay happy, and love those around you… and remember to call us whenever you're in need of assistance!
~The O'Brien Team