Join us for our 2nd Annual Flag Day exchange event in City Park on Thursday, June 14, 2018, from 4-6 p.m. Whether you're a current client, prospective client, veteran, family member, friend, or just someone who wants a new flag and a hot dog, we'd love to have you stop by! As most of you already know, O'Brien Insurance isn't just about policies. Our home-grown business is about love and faith, meeting strangers and making friends, taking part in our local community, and showing our appreciation for how we came to be.
"It is because of our clients and our freedoms that we have been in business for over sixty years," John says. "We get to have our own choices, to open a business, while people in some other countries are living in fear. As part of our thanksgiving, we are celebrating flag day."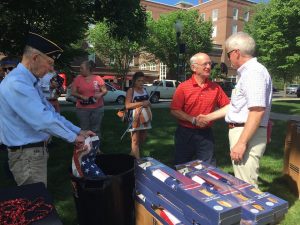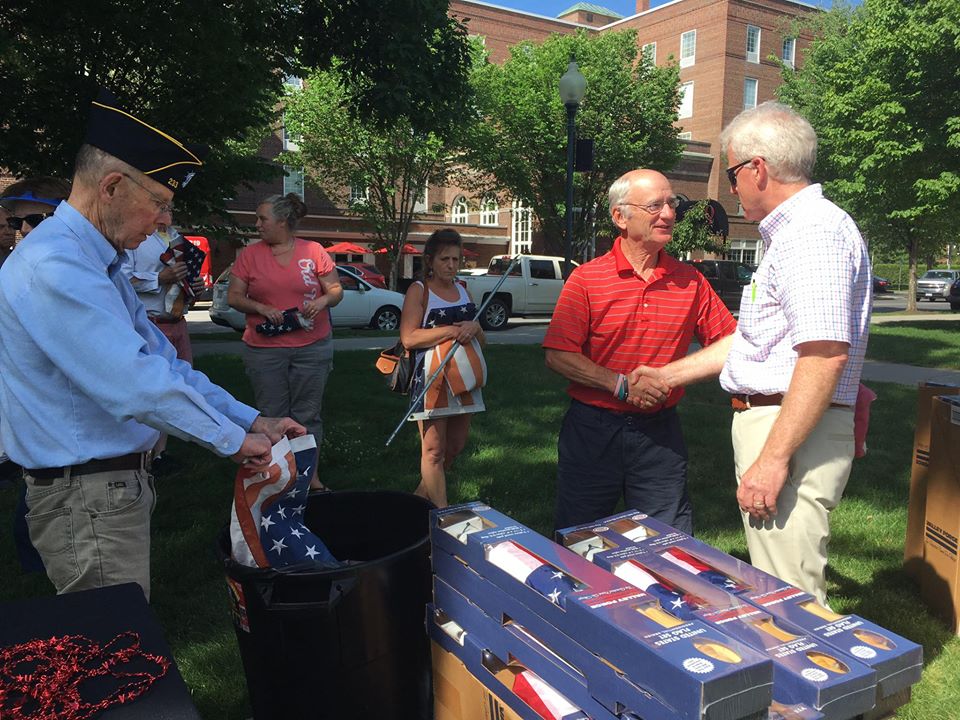 Are you in need of a flag? Has your current flag seen better days? Bring your old flag to City Park, and we'll give you a new one at no cost. Last year, 125 new flags were handed out, and this year we hope for the same. All flags were locally purchased at St. Andrews Ace Hardware in Queensbury and will be handed out on a first come, first served basis, while supplies last.
"We think it is a very wonderful thing to fly our flag and respect its colors," says John. "It should be flown with all that is behind it, and out of respect, we should fly one that is not tattered from the wind, but one that is new and bright. We want to give you a new flag to fly with pride at your home or business. We thank all the people who have made sacrifices for our freedoms."
Times are hard, tensions are high, and news is often negative these days, but let your flag serve as a reminder of how we are all united both in country and community. We are able to make changes for the positive because of those who fought for us, and who continue to fight.
All are welcome to enjoy this event, trade in their flag, and have a good time. Hot dogs will be provided by the Queensbury Hotel, as well as the ever-famous pink lemonade from Samantha's Cafe and Catering. There will also be a special, patriotic musical performance by students from the studio of Suzy Chhim-Parisi which is located at the Glens Falls Music Academy. The worn flags will be disposed of properly and ceremoniously by the American Legion. In case of rain, the event will occur inside at the Queensbury Hotel.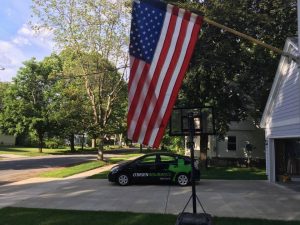 Last year was the our first go at this event, and what a beautiful and humbling experience it was. O'Brien Insurance had the honor of meeting our local veterans, shaking the hands of those who stood up for our country, and saying "thank you." Two simple words that hold such weight. We take so much for granted every day, and don't often stop to think where we would be had it not been for our veterans.
What freedoms are you thankful for? Try to start off each week with a reminder of the good things that have lead you to where you are in life.
Because of our freedoms (and our amazing clients), O'Brien Insurance has been in business for 61 years with no signs of stopping. We're thankful for the soldiers who fight for us, the clients who choose us, the community who embraces us, and the chance we are afforded every single day to give back to those who need it. The O'Brien name has long stood for stability, integrity, and the ultimate in client care. Today, as ever, O'Brien is about taking good care of people.