Let's just face it, insurance isn't glamorous… and neither are insurance agents. They're regular people doing everyday things, with a passion for helping others. They live in a house, go to church, and get out in the community. They have families, go on trips, get sick, and grow old. So why do people dread the process of finding an insurance agent? A friend might have had a negative experience, but that doesn't mean you have to. If you take the time to find the perfect one, you'll be covered for life!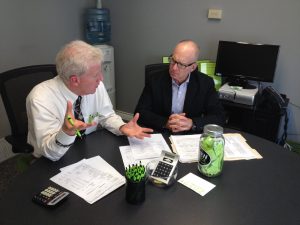 Think of your insurance agent search as a match-making endeavor. Would you hop right into a committed relationship without getting to know the person you'll be spending the rest of your life with? We hope not! Take the time to do your research. Don't settle on the first agent you find because you don't have the time to put into searching. What are some things you look for in a significant other? You may be surprised that those traits are what you want in an insurance agent as well! Here are some questions you might want to ask yourself before going on that all important first meeting (let's just call it your first date!).
What values are important to me? Do my insurance agent's values align with mine? This is a BIG ONE. An agent who has similar morals and values can really get to know you and understand where you are coming from.
Do you have a growing family? Think about choosing an insurance agent that has children. They'll know just what to do in terms of life insurance, college funds, car insurance for when the kids start driving. They may even be able to predict what you'll need in terms of coverage before you need it, making your insurance journey much less stressful!
Is my insurance agent trustworthy? What do others say about them? Do your research. You might not want to admit it, but chances are that you have probably snooped on the person you are interested in dating. You've talked to their friends, looked them up online, or personally know them. It's the same with your insurance agent. Visit their website to see what they offer. Look over their blog. Check out their Google reviews to see what others have said. Visit their Facebook page to see how they engage with their clients. This gives you a great preliminary look into what you can expect from the agent you'll be meeting with.
What is my budget? Will my insurance agent work within my limits to find me the coverage I need? Figure out what you're looking for and what you can afford. While most insurance insurance agents sell similar products, a good agent will shop around to find a policy that fits your budget and coverage needs. They won't try to push a policy on you just to get a commission.
Is my insurance agent community-driven? Do you LOVE your community? Do you support local shops, volunteer, or take your family out to enjoy what your city has to offer? Make sure your insurance agent does the same! An agent who is out and about in the community not only shows that they're invested in the people who live there, but that they UNDERSTAND what their wants and needs are. Think of your insurance agent as a helpful neighbor! The choice to go local keeps your money invested in the community….and might even save you some cash in the long run!
Will my insurance agent be there when I need him/her? A good agent will be there for you 24/7, but is he a vampire? NO! You shouldn't be scared of someone whose sole purpose is to PROTECT you and your family! Insurance agents get sick, experience aches and pains, and have bad days. But, they come to work everyday and put that aside to help YOU. A good agent will be there when a tough situation arises and not just when it's convenient for them. But what if you can't get a hold of them right away? Make sure the agency you choose has multiple ways to get in touch! Do they have a mobile app? A website presence? Face-to-face meetings? GREAT!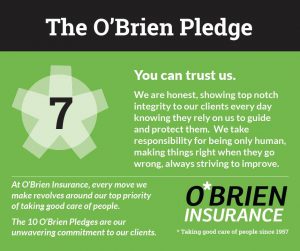 Think you're ready to take the leap into finding the perfect insurance agent? We hope so! If you're looking for a relationship with someone who will LISTEN to you, LEARN from you, and TEACH you, consider choosing O'Brien Insurance! You can't go wrong with any of our agents – we work as a team with your best interest in mind.
Our business is going 60 years strong, with multiple long-term clients who have become some of our closest friends. We think we make a pretty good companion! May we also add that we have an amazing sense of style (check out our ugly Christmas sweaters!), enjoy long walks through Crandall Park, and love sharing a good story or two.