Pop. Pop. POP! That's the sound of Bubble Wrap all around the O'Brien Insurance Agency office! Are we crazy? Perhaps! Fun? Of course! But we like to think that we have a lot more in common with Bubble Wrap than you would assume…
DID YOU KNOW that Bubble Wrap was invented THE SAME YEAR that O'Brien Insurance was founded? It's true! Engineers Alfred Fielding and Marc Chavannes created what is now known as Bubble Wrap in 1957, by sealing two shower curtains together. They marketed their product as textured wallpaper. After a less than enthusiastic review, Fielding founded Sealed Air Corporation and rebranded his invention as packing material. That same year, my Father, Robert O'Brien, founded O'Brien Insurance in a little place called Glens Falls.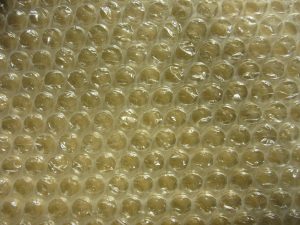 Luckily, both our agency and Bubble Wrap have stood the test of time. We started off with humble beginnings and evolved into something more – an agency that's here not only to write insurance policies, but to PROTECT our community and ENGAGE with the people who call our area home. We're tried and true – some of our current clients have been with us since the beginning, and many of our clients have been with us long term. They know us. They know our benefits and our reputation. The same can be said for Bubble Wrap!
Bubble Wrap keeps you SAFE – just like O'Brien Insurance. You can send your precious package off without it, but it will probably break. Is that something you want to risk? Always opt for that extra layer of protection when it comes to you and your family. YOU ARE VALUABLE GOODS! Your kids, your spouse, your home, your vehicles – those are all things that you want to protect from any chance of harm. At O'Brien Insurance, we offer you top notch customer service and a policy that is tailored to your needs so that when life tries to break you, you stay whole!
We know life is STRESSFUL, so we try to make insurance EASY for you. If you're looking to make the switch, all you have to do is text us a photo of your current policy to get started, and we'll take it from there! Text to (518) 480-9740!
We've got a mobile app complete with a home inventory page, guided help if you're in an accident, and access to your entire policy with the touch of a screen. And if that isn't enough to set your mind at ease… there's always Bubble Wrap! Seriously! Popping just a few of those tiny little bubbles brings so much satisfaction, and a laugh to go along with it. "In 2012, the makers of Bubble Wrap® brand cushioning conducted a survey and respondents said that just over one minute of popping bubbles provides the stress relief equivalent to a 33-minute massage." (Source: http://www.theupsstore.ca/bubble_wrap/) So go ahead and try it! What have you got to lose? I may look crazy popping bubbles on my Facebook page, but it lightens the mood in the office (although our office is pretty fun to begin with!) and makes me feel like a kid again. We could all use a little dose of childhood now and again.
POP into the O'Brien Insurance Agency anytime – to set up an initial meeting, make changes to your policy, or just to help me pop my new Bubble Wrap calendar. We're here for you whenever you need it, and will make sure you understand your insurance policy package as we handle it with care!