We're bringing a new monthly feature to the O'Blog! The O'Brien Insurance Agency believes in taking good care of people, and we're always grateful when clients choose us to take care of their insurance needs. Becoming an O'Brien Insurance client means joining the O'Brien Insurance family, and we want to celebrate its incredible members. So, we will be spotlighting an O'Brien Insurance Agency client here on the O'Blog each month! 
To kick off the O'Blog Client Spotlight series, we spoke with Kelly Stevens of Queensbury, a longtime member of the O'Brien Insurance Agency family.
Q: Tell us about yourself!
A: I'm a mom of three kids, with 2 in middle school and 1 in high school. All are heavily involved in Glens Falls School District's sports programs. I also work at Kensington Road Elementary School in Glens Falls.
Q: Did you grow up in the greater Glens Falls region? If not, tell us about where you're from and what brought you to the area.
A: I grew up in Williamsport, Pennsylvania, home of the Little League World Series! I fell in love with Lake George when I met my husband who's from the area. I relocated here and I've never looked back! 
Q: What are some of your favorite things about living in the greater Glens Falls area? 
A: The community involvement, the friendships my kids have made, and that there's always something to do!  
Q: What does an average day look like for you?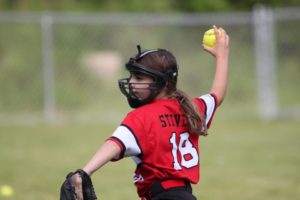 A: I get up early, pack three lunches, make three breakfasts and I'm out the door at 7:45 am. After school, we can be found running my daughter, Emma, to softball, my son, Jonathan, to Glens Falls High School varsity swim team practices and meets, and my son, Zach, to Glens Falls Middle School modified basketball practices and games. It means lots of traveling on the Northway. My husband works for Washington County Emergency Services, so his schedule is crazy, too, and sometimes unexpected things pop up.  
Q: Please share with us the story of Food for Thought.
A:  Food for Thought is a volunteer-run, donation-based charitable organization that provides close to 4,000 snacks a month to children in schools across three counties. We started it when my daughter, Emma, noticed some of her classmates didn't always have snacks for snack time, and she wanted to help do something about it. We want to keep growing and expanding, to find more ways to make a difference.
Q: What matters most to you in life? 
A: Kids! My kids, your kids, their kids. For me, it's all about making sure they all have a chance to succeed in life. That's why it's so important to me to make sure kids have snacks and know people care about them. 
Q: Why did you choose O'Brien Insurance Agency for your personal and/or business insurance needs? 
A: John O'Brien is my hero in many ways. He believes in putting family first, and takes care of all of his customers no matter who they are. Plus, O'Brien Insurance Agency saved us over $1,000 when we switched over to them. It was a no-brainer. 
Q: What does being a member of the O'Brien Insurance Agency family mean to you?  
A: That we are part of something larger than ourselves, and we all matter. 
Q: Is there anything else you'd like to share with O'Blog readers? 
A: Everyone needs to give John O'Brien and his team a chance to work their magic!  
We're so appreciative Kelly was willing to share her thoughts with us, and we love hearing about her positive experiences as an O'Brien Insurance Agency client. If you haven't joined the O'Brien Insurance Agency family yet, reach out to us today!
If you're an existing O'Brien Insurance Agency client and would like to be featured in an upcoming O'Blog Client Spotlight, we would love to hear from you, too!