At O'Brien Insurance, our clients are our family and we take our promises to them seriously. We created our O'Brien Pledge so that our customers know what they can expect from us, and they can be assured that we're committed to providing the highest-quality customer experience possible. So what does our Pledge mean for our clients?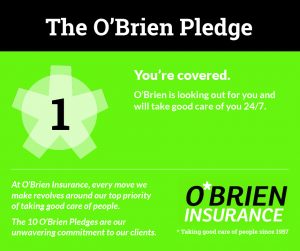 You're covered. O'Brien is looking out for you and will take good care of you 24/7.
Our job is to make sure what matters most to you is protected at all times. Accidents and other unexpected occurrences that put you, your loved ones, or your property at risk can, and do, happen at any hour of the day or night. We're dedicated to being available to our clients around the clock.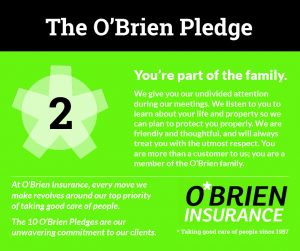 You're part of the family. We give you our undivided attention during our meetings. We listen to you to learn about your life and property so we can plan to protect you properly. We are friendly and thoughtful and will always treat you with the utmost respect. You are more than a customer to us; you are part of the O'Brien family.
At O'Brien Insurance, family and community mean everything to us. Our customers are our neighbors and our friends, and they become part of our family. We treat our clients how we'd want to see our loved ones treated. Each of our clients is far more than a number to us, and we're grateful to them for trusting us to take care of them and what matters most in their lives.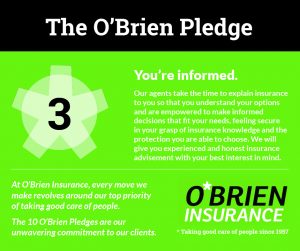 You're informed. Our agents take the time to explain insurance to you so that you understand your options and are empowered to make decisions that fit your needs, feeling secure in your grasp of insurance knowledge and the protection you're able to choose. We will give you experienced and honest insurance advisement with your best interest in mind.
One of the biggest benefits of working with an independent insurance agency instead of a HUGE insurance company is that we have access to options and we have the time to talk them through with you. Our goal is to help you find the best protection for your needs, and we'll walk alongside you through the decision-making process. We will take as much as is needed to answer all of your questions and ensure you feel confident in your ultimate coverage selection.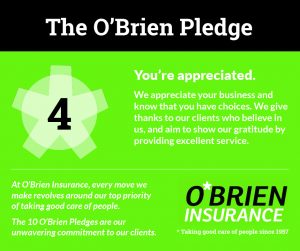 You're appreciated. We appreciate your business and know that you have choices. We give thanks to our clients who believe in us, and aim to show our gratitude by providing excellent customer service.
Your business is a vote of confidence in the services we provide and our dedication to our clients. We are truly grateful to our customers for entrusting us with taking care of them, their families, their homes, their vehicles, their business and so much more. Our priority is making sure each member of the O'Brien Insurance family is given excellent, personalized service.
If you're interested in joining the O'Brien Insurance family and seeing us putting our Pledge into action, contact us today to learn more about what we can do to make sure you, and everything that's important to you, is protected.